Tagestour zum Sahara Yoga Camp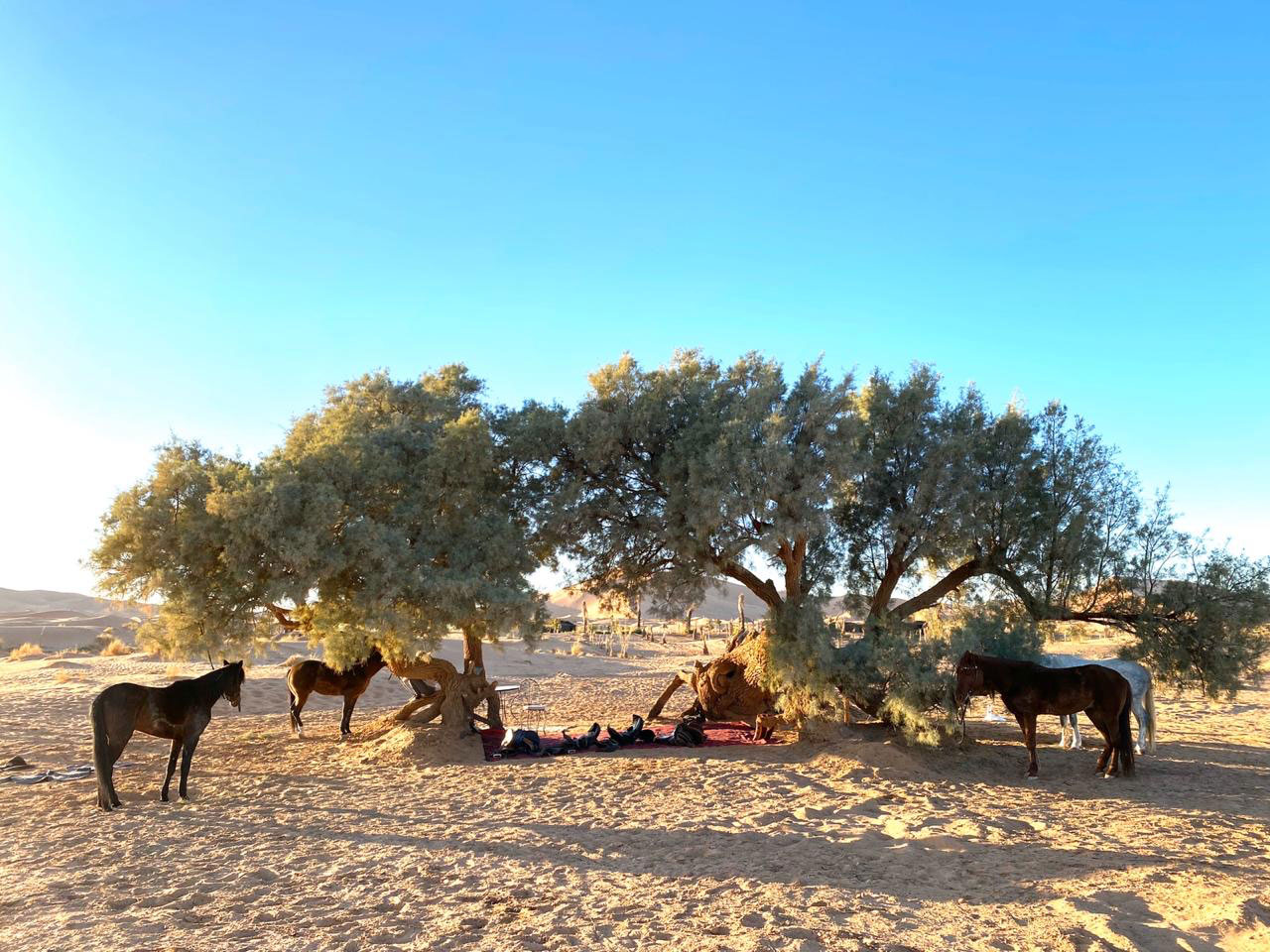 We start in the morning at the stables and prepare ourselves and the horses for this special tour. The first part of the way leads us through the oasis of Merzouga, past the impressive large date palms. Soon we will come to the Erg Chebbi. In front of us are sand dunes as far as the eye can see and we are greeted by a silence – powerful and powerful and at the same time very gentle – that invites us to focus on what is important right now – exactly this moment. We feel the horse beneath us, the clarity of the dry air, we see the bright blue sky and we are very aware of ourselves. Step by step, our faithful Arab-Berbers carry us further into the desert – whether up or down the dunes – they guide us reliably and sure-footedly through the sand, until the mountains of the Atlas slowly emerge and the path becomes flatter again. Eventually we arrive at the dry river and follow it. Even if there is no water to be seen, it is fertile soil and a multitude of small bushes and the occasional large tree line the path. On our right we marvel at the black desert, its barrenness and wildness. Every now and then we see the tents of the nomads and some of their animals, which follow their traditional way of life and completely do without comforts such as electricity or running water.
Schließlich kommen wir nach diesem langen Ritt im Camp an, eine Oase inmitten der Wüste mit zahlreichen Palmen, Moringa- und Granatapfelbäumen und weiteren Bäumen. Wunderschön eingebettet in den Dünen, nahe dem trocknen Fluss, herrscht hier absolute Ruhe, wir sind umgeben von friedlicher Natur. Es gibt Hängematten unter den Bäumen, eine Plattform sowie einen windgeschützten Raum aus Holz um zum Beispiel zu Meditieren, mehrere Schattenplätze und zwei gewaltige alte Bäume, die zum Entspannen einladen. Nach einem köstlichen traditionellen Berberessen bleibt Zeit, um die Seele baumeln zu lassen.
Ausgeruht und erholt machen wir uns schließlich auf den Rückweg. Noch einmal haben wir die Möglichkeit den Zauber der Wüste intensiv auf uns wirken zu lassen. Wir reiten in Richtung des Sonnenunterganges und bekommen das besondere Farbenspiel, das sich nun zeigt und von den gewaltigen großen Dünen umrahmt wird, zu sehen. Ein Ritt mit allen Sinnen der gewiss lange in Erinnerung bleiben wird.
Anmerkung: Jede unserer Touren wird stets an das reiterliche Können unserer Tourteilnehmer*innen angepasst, insofern ergeben sich leichte Variationen bei der Dauer der Tour.
Die Dauer der Tagestour ist auch abhängig von der Jahreszeit. In den heißeren Monaten ist es unumgänglich am frühen Morgen loszureiten und es kann erst am späten Nachmittag zurückgeritten werden.